Bidding Documents
Supplemental Bid Bulletin No. 1
The Philippine Science High School – Central Luzon Campus, through the GAA 2021 intends to apply the sum of One Million Five-Hundred Fifty Thousand Pesos (PHP 1,550,000.00) being the ABC to payments under the contract for Supply, Delivery, Configuration, Documentation, and User's Training of Core and Distribution Switches and Centralized CCTV Monitoring (Implementation of K-12 Program MITHI ICT Infrastructure) for PSHS-CLC 2021, Identification Number: APP2021-013. Bids received in excess of the ABC shall be automatically rejected at bid opening. Partial Bids are not allowed.
The Philippine Science High School – Central Luzon Campus now invites bids for the above Procurement Project. Delivery of the Goods is required seventy-five (75) calendar days from the receipt of Notice to Proceed. Bidders should have completed, within three (3) years from the date of submission and receipt of bids, a contract similar to the Project. The description of an eligible bidder is contained in the Bidding Documents, particularly, in Section II (Instructions to Bidders).
Bidding will be conducted through open competitive bidding procedures using a non-discretionary "pass/fail" criterion as specified in the 2016 revised Implementing Rules and Regulations (IRR) of Republic Act (RA) No. 9184.
Bidding is restricted to Filipino citizens/sole proprietorships, partnerships, or organizations with at least sixty percent (60%) interest or outstanding capital stock belonging to citizens of the Philippines, and to citizens or organizations of a country the laws or regulations of which grant similar rights or privileges to Filipino citizens, pursuant to RA No. 5183.
Prospective Bidders may obtain further information from Philippine Science High School – Central Luzon Campus and inspect the Bidding Documents at the address given below during Weekdays, from 8:00AM – 5:00PM.
A complete set of Bidding Documents may be acquired by interested Bidders on August 23, 2021 from the given address and website(s) below and upon payment of the applicable fee for the Bidding Documents, pursuant to the latest Guidelines issued by the GPPB, in the amount of
Approved Budget for the Contract
Cost of Bidding Documents (in PHP)
500,000 and below
500.00
More than 500,000 up to 1 Million
1,000.00
More than 1 Million up to 5 Million
5,000.00
The Procuring Entity shall allow the bidder to present its proof of payment for the fees in person, by facsimile, or through electronic means.
The Philippine Science High School - Central Luzon Campus will hold a Pre-Bid Conference on August 31, 2021, 1:00 P.M. at the BAC Office, Academic Building I, PSHS-CLC and/or through video conferencing or webcasting via Zoom (Meeting ID: 550 058 3771 Passcode: clcbac) which shall be open to prospective bidders.
Bids must be duly received by the BAC Secretariat through (i) manual submission at the office address indicated below, (ii) online or electronic submission as indicated below, or (iii) both on and before September 13, 2021, 1:00P.M. Late bids shall not be accepted.
All Bids must be accompanied by a bid security in any of the acceptable forms and in the amount stated in ITB Clause 14.
Bid opening shall be on September 13, 2021, 1:01 P.M. at the given address below and/or via Zoom (Meeting ID: 550 058 3771 Passcode: clcbac). Bids will be opened in the presence of the bidders' representatives who choose to attend the activity.
For better experience, it is recommended that observers and participants use a Google Account. For any problem regarding the access to the meeting, the BAC Secretariat may provide a special access account to all observers and participants. Electronic bids proposals must be password-protected and sent thru the link below.
The Philippine Science High School - Central Luzon Campus reserves the right to reject any and all bids, declare a failure of bidding, or not award the contract at any time prior to contract award in accordance with Sections 35.6 and 41 of the 2016 revised IRR of RA No. 9184, without thereby incurring any liability to the affected bidder or bidders.
For further information, please refer to:
Rommel O. Gregorio
BAC Secretariat Head, PSHS-CLC
Lily Hill, Clark Freeport Zone, Pampanga
This email address is being protected from spambots. You need JavaScript enabled to view it.
(045)499-0136 local 108
https://clc.pshs.edu.ph
You may visit the following websites:
For downloading of Bidding Documents: https://clc.pshs.edu.ph
For online bid submission: https://forms.gle/BgrrdJLniNSTsgg97
August 23, 2021
______________________________________
JED ARIES F. CASTRO (SGD)
Chairperson, PSHS-CLC BAC
Details

Hits: 374
Accelerating impact-based forecasting
Through strong international partnerships, the Weather and Climate Science for Service Partnership programme is supporting the implementation of impact-based forecasting around the world.
What is impact-based forecasting?
While traditional weather forecasts give an indication of what the weather will be, impact-based forecasting (IBF) considers the vulnerability of people and property to the weather and warns of the associated impacts, as well as the likelihood of them occurring.
Impact-based forecasting enables an integrated, authoritative message to be delivered to all parts of society so that everyone to take appropriate action to ensure personal safety and protect property.
The World Meteorological Organization recognises impact-based forecasting as best practice and the Weather and Climate Science for Service Partnership (WCSSP) Programme is accelerating the implementation of impact-based forecasting to benefit countries around the world.
How is the impact of a severe weather event determined?
Impact-based forecasts use a risk matrix to determine the warning level. National Meteorological Services, disaster managers and local communities work together to determine and agree the different warning levels on a case by case basis by using impact data from previous extreme weather events.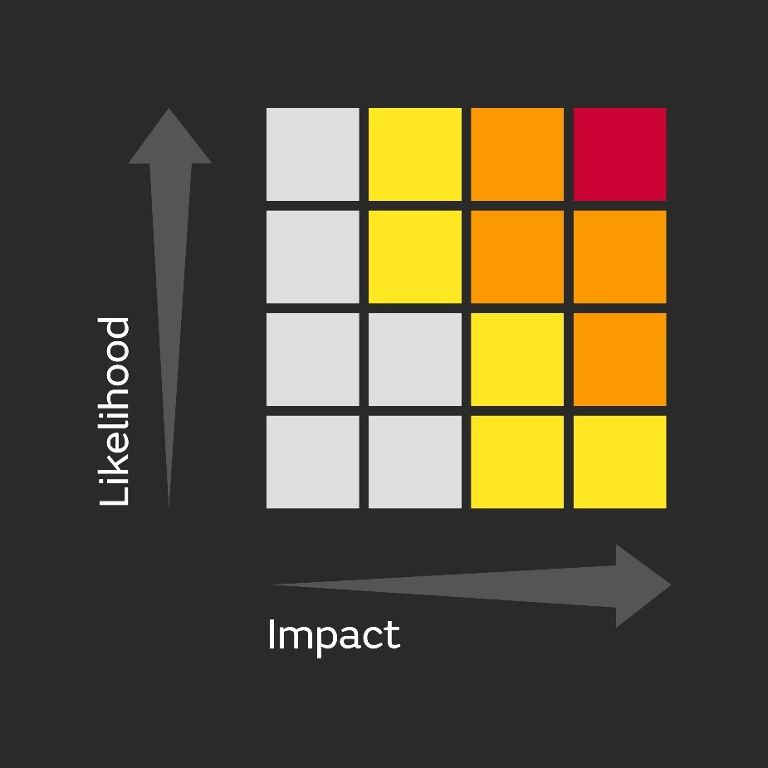 Example of an impact-based forecasting risk matrix.
The risk matrix warnings are colour coded, depending on a combination of both the impact the weather may have and the likelihood of those impacts occurring.
A yellow warning is the lowest level and can be issued if it is likely the weather will cause some low level impacts. An amber warning is issued when there is an increased likelihood of impacts from severe weather which could disrupt plans and have impacts such as travel delays. A red warning is issued when dangerous weather is expected and there is very likely a risk to life with substantial disruption to travel, energy supplies and possibly widespread damage to property and infrastructure.
WCSSP programme and impact-based forecasting
The WCSSP Programme is working on several projects to accelerate the implementation of impact-based forecasting to benefit countries around the world.
WCSSP South Africa
Southern Africa is severely impacted by extreme weather and climate events. In 2019, tropical cyclone Idai led to over 1000 deaths across Mozambique, Zimbabwe and Malawi, suggesting there are still improvements to be made in the production and delivery of early weather warnings.
The WCSSP South Africa project has been working with the South African Weather Service (SAWS) to launch a new impact-based severe weather warning service in South Africa, which has already delivered significant benefits. By working closely with disaster managers and communities, the warning messages issued by SAWS have been tailored towards the users. Forecasters have received training to ensure non-scientific terminology is used when communicating forecasts and warnings. As a result, disaster managers can understand the warnings issued and take the necessary action ahead of the anticipated severe weather.
To set up the system, the project hosted outreach workshops where vulnerable communities were invited to attend and develop communication chains with the National Disaster Management Centre. These workshops ensure the warning messages will reach their areas and that appropriate actions can be taken.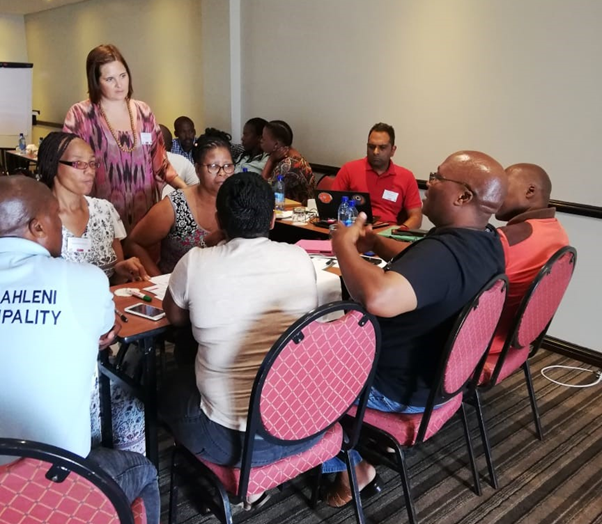 Outreach workshop at East London, Eastern Cape, February 2019 Credit: Met Office
How has the system performed?
The new system was tested on cases of extreme weather in 2019 and became operational in 2020. It successfully warned of the high likelihood of flash flooding in coastal areas of Kwazulu-Natal between 22-23 April 2019 and specifically the heightened risk and disruption on the roads. These timely warnings kept people off the roads and enabled disaster managers to evacuate people. Whilst there were still significant impacts from this event with at least 68 fatalities and estimated damages of more than R1 500 000 000 (approximately GB£65 million), these would have been much higher without the new warning system.
Disaster manager, Joe Gqabi District in the Eastern Cape said "Impact-based forecasting has significantly improved relationships, especially between emergency response agencies and stakeholders. Disaster Risk Management issues warnings in advance to stakeholders and this enables them to plan their activities especially when there are sensitivities at a particular time. Relations are now good as there is one source of information on weather related matters for the stakeholders to plan, take action and coordinate their activities."
The lessons learned through the implementation of the new service will be shared through workshops to benefit other countries across Southern Africa.
WCSSP India
WCSSP India is a research project building and harnessing strong, sustainable science and innovation partnerships between the UK and India. It is a collaborative initiative between the Met Office, supported by the UK Government's Newton Fund, and the Indian Ministry of Earth Sciences. Through this collaboration, WCSSP India is developing the underpinning science for impact-based forecasting which can support the Indian Meteorological Department as they transition towards operational impact-based forecasting. In 2019 an impact-based forecasting workshop was held at the
Indian Institute of Tropical Meteorology
, Pune, bringing together researchers and operational meteorologists to discuss the challenges associated with impact-based forecasting. Based on this workshop a set of priority areas were identified: research and development of impact models; socio-economic impact data collection; and communication and dissemination of warnings.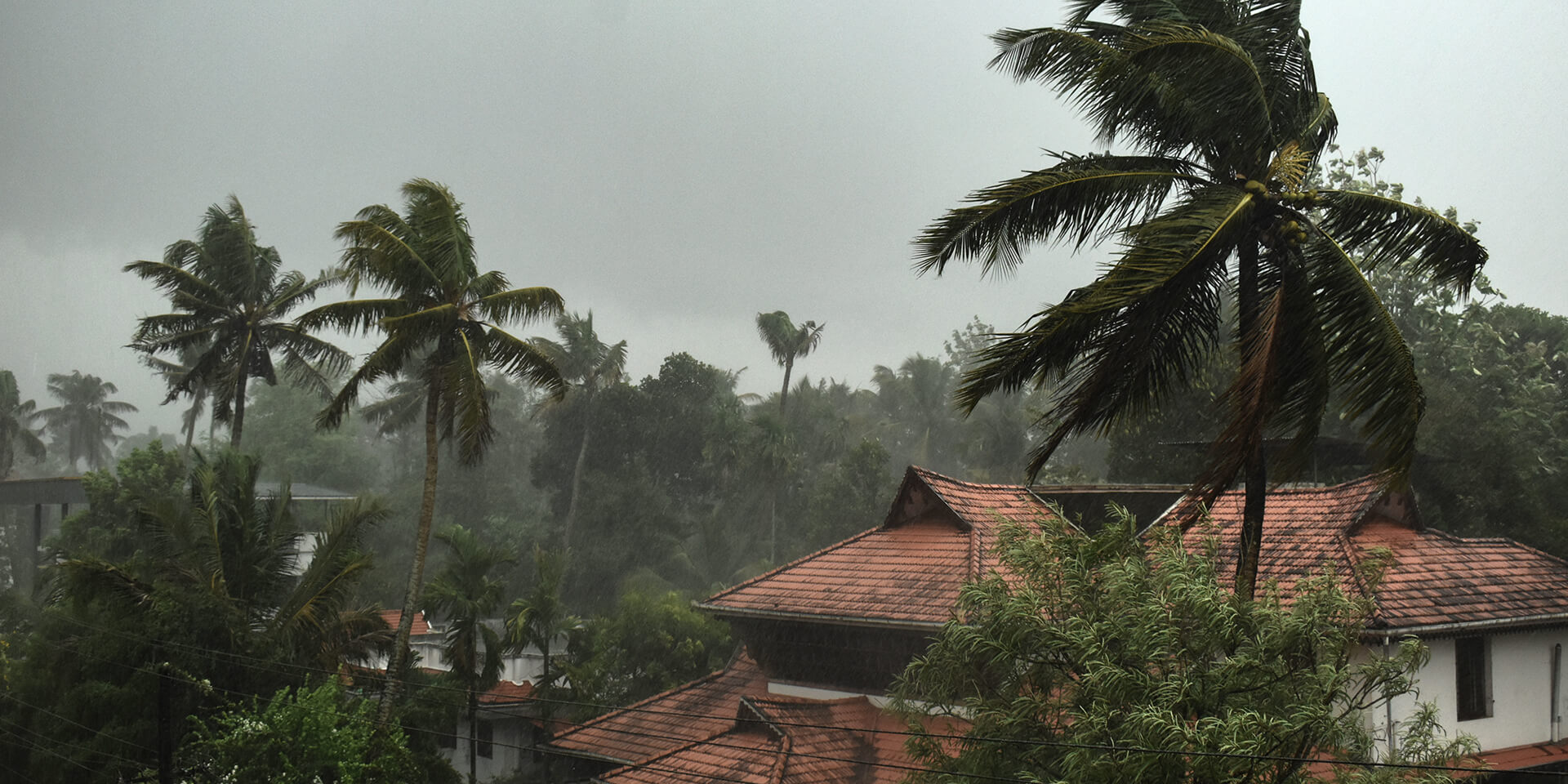 Impact-based forecasting (IBF) considers the vulnerability of people and property to the weather and warns of the associated impacts
Research from several WCSSP India projects is supporting the improvement of underpinning science and capability for impact-based forecasting. One project, led by the UK Centre for Ecology and Hydrology, has developed a Flood Hazard Impact Model focussing on Kerala as a test example. The model brings together hazard information (flood inundation) with receptor (people, property and transport) data to assess impact severity. Another project, led by the Health and Safety Executive, examined different sources including social media for the collection of impact observations, while a project led by HR Wallingford investigated Earth Observation as an additional potential source of impact observations. Together these projects have provided a framework for how impact data could be collected in India.
Additionally, the project has identified a set of weather patterns which represent all the main phases of the Indian climate throughout the year, such as the active or retreating monsoon phases. These are being used to develop forecasting prototypes for different hazards such as heatwaves, heavy rainfall and landslides. This project has shown that many of these weather patterns have good forecast skill at least 15 days ahead.
The capability has been packaged into a tool and shared with partners to help provide forecasters with an earlier indication of potentially impactful events. Workshops with landslide experts and disaster management authority representatives are helping to inform the usefulness of the weather pattern landslide forecasting application and ways it can be further enhanced. This application is being used to issue landslide bulletins during the monsoon season to provide communities with more time to act and reduce the impacts of such events. An example of operational impact-based forecasting at the India Meteorological Department is shown in Figure 1 for the city of Mumbai. The bulletin provides warnings in terms of water logging, traffic flow and danger to old buildings due to heavy rain.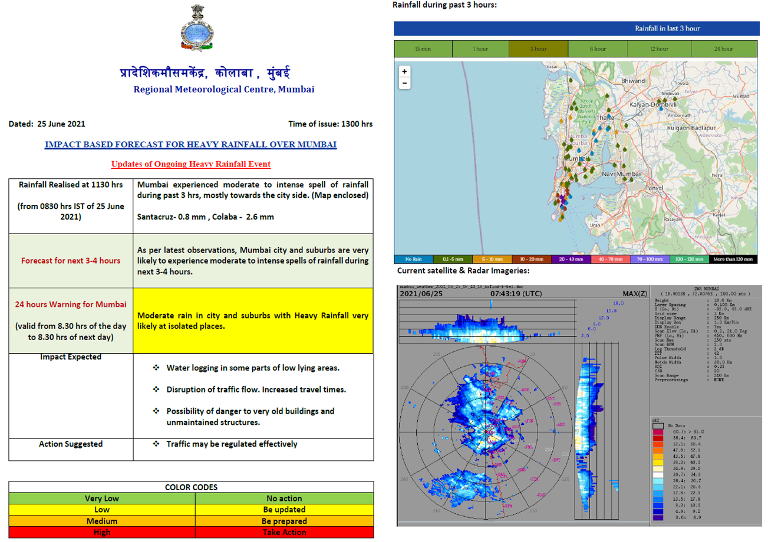 Figure 1: An impact-based forecasting bulletin warning for heavy rainfall over Mumbai
WCSSP Southeast Asia
One of the main aims of WCSSP Southeast Asia is to develop the capacity of institutions in Southeast Asia to issue timely, accurate warnings of high impact weather.
Despite forecasters in Malaysia, the Philippines and Indonesia following protocol, high impact weather in the countries has often resulted in loss of life and property. After Typhoon Mangkhut in September 2018, the chief forecaster at the National Meteorological Service in the Philippines, noted that they followed all the correct procedures and issued warnings as early as they could. Despite this, some of the public did not react to the warnings. The National Disaster Risk Reduction and Management Council reported a total of 82 deaths, 138 injured and two missing. Most of the casualties were attributed to landslide incidences caused by prolonged heavy rain. This highlights the need for improved forecasting of high intensity rainfall, and for warnings that clearly highlight potential impacts to society and vulnerable communities.
Through WCSSP Southeast Asia, experiences in the UK of successfully implementing an impact-based forecasting system are being shared with researchers and forecasters across Southeast Asia. Some of the project's activities include:
Delivering training to scientists and operational forecasters in Southeast Asia. Currently over 200 people have received training.
Encouraging the use of ensemble forecasting which can give the forecaster a better idea of how likely a particular weather event will be and reduces the uncertainty of a forecast.
Developing new tools and visualisations to aid forecasters. One called FOREST allows forecasters to visualise the forecast output together with real-time observations. The tool enables the global science community to solve new problems more quickly, for the benefit of forecasters around the world.
The Philippine Atmospheric, Geophysical and Astronomical Services Administration (PAGASA) who are responsible for issuing weather forecasts in the Philippines, have been piloting a web-based visualisation tool for Metro Manila.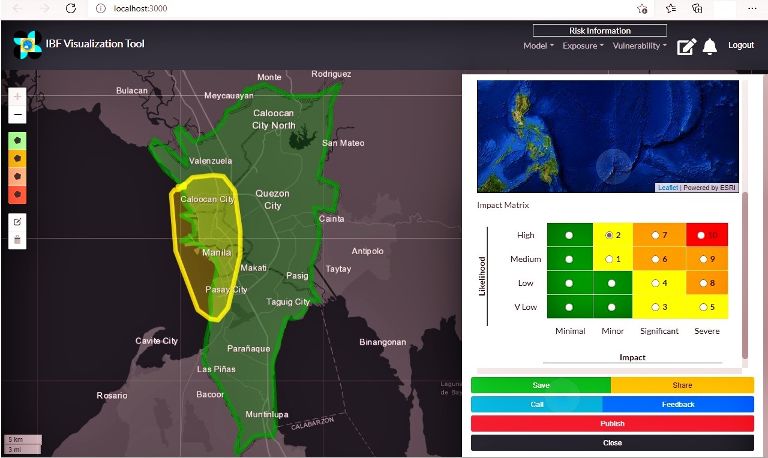 Figure 2: An example of the visualisation tool used for Impact-based forecasting by PAGASA.
A colour-coded map enables disaster managers and the public to visualise the specific areas that are affected by yellow, amber or red warnings.
All project partners are working collaboratively on a best practice handbook for forecasters which will bring together information from the activities and training. Each country is working on their own tailored version to represent the main weather hazards and priorities in that country.
Supporting the Sustainable Development Goals
The implementation of impact-based forecasting through the WCSSP programme is closely aligned to the aims and ambitions of the UN's Sustainable Development Goals, particularly goal 1 (no poverty), goal 11 (sustainable cities and communities) goal 13 (climate action) and goal 17 (partnerships for the goals).
The South African Weather Service has now developed their first impact-based severe weather warning system, supported by the Met Office under WCSSP South Africa and the Hydrologic Research Centre in the USA.
You can find out more about this new system here.
Details

Hits: 319
Protecting the 'Amazon of the sea' with new video technology
The Philippines sits at the tip of the Coral Triangle – an ocean region at the global centre of marine biodiversity. The country's coral reefs have been dubbed the Amazon of the sea.
This abundance of marine life provides archipelagic communities with vital resources and services, including food, medicines, economic security, and protection from extreme weather. However, these precious ecosystems are under threat from both overexploitation and climate change.
Establishing marine protected areas (MPAs) is one solution to these problems. Successful marine management initiatives need to be carefully implemented and monitored. A new technology is helping to track fish populations in the Philippines so that protected areas can be appropriately managed.
A traditional way to assess and monitor fish populations in MPAs is for divers to conduct an underwater visual census. This can tell us which species are present and in what density. Decision makers can use this knowledge to understand and protect biodiverse marine areas. For example, some juvenile fish species are of special interest because they are important for livelihoods, or as food for nearby communities. Certain species are vital for ecotourism.
Researchers can observe trends in the data, highlight threats to the MPA, and make judgements about the effectiveness of current protection measures. For example, declining fish populations in a prohibited fishing area may indicate that regulations are not working or need to be reassessed.
Philippines colourful fish
It is time consuming to do an underwater fish visual census. And prone to observer bias and inaccuracies. Fish may hide from divers conducting the survey. It also needs divers with specialist knowledge and training. This means a fish census might not take place often enough. The Philippines doesn't have enough specialist divers.
Fish-I co inventor and PH LIF3 alumnus Professor Prospero Naval Jr
Innovators in the Philippines have developed a new technology to overcome these challenges. Fish-i is a semi-automated dual-camera system that records quality underwater videos. It gathers accurate data on the distribution, biomass estimate, and population density of fish species, and provides a visual record for site monitoring and assessment. This can reduce inconsistencies brought about by observer bias. The system software enables divers with minimal knowledge of fish to obtain high quality data, therefore avoiding the data collection bottleneck caused by needing specialist divers.
v2 Screenshot of Fish-i software gathering fish data from recorded underwater video
Divers set up Fish-i in a strategic position within the area of study, and then vacate the area to let the device do its work. Collecting data using Fish-i therefore reduces the effect of fish behavioural responses. Without the presence of divers, the marine environment can remain in its normal state. Professor Naval and his team want to deploy Fish-i extensively in coastal areas of the Philippines. This will generate much needed accurate data for evidence-based policy making for marine resources management.
The Newton Agham Fund Leaders in Innovation Fellowship (LIF) programme is providing Professor Naval with new skills in technology commercialisation. This will help the team to expand and commercialise the Fish-i technology.
The Newton Agham LIF Programme has helped me transform my perspective from that of a researcher to a technology innovator. This change puts me in a better position to push forward our Fish-i technology which is meant to assist decision makers with their marine biodiversity protection initiatives. – Professor Naval
Since completing the programme in 2018, Professor Naval led his team to establish a registered company, Fish-I, Inc., with support from the Department of Science and Technology-Philippine Council for Industry, Energy, and Emerging Technology Research and Development. He has pitched to numerous stakeholders and patented the technology in the Philippines, USA, Brazil, Indonesia, and Mexico. The team have tested Fish-i in more than 50 sites in the Philippines and have received enquiries about the technology from the United States, New Zealand, Singapore and Middle East.
Details

Hits: 316
Request for Quotation
Philippine Science High School – Central Luzon Campus (PSHS-CLC) wishes to invite proponent for the Supply and Delivery of Window Blinds for the Various Offices in the Administration Building of PSHS-CLC with ABC of Eight Hundred Forty Thousand Pesos only in words and Php 840,000.00 in figures. APP CODE: SPU-2021-004
Details: PR No.2021-08-009-01
Item Description Qty
Unit
ABC
Supplier's Price
Supply, Delivery, and Installation of Roller Shade/Window Blinds for Admin Building
SPECIFICATIONS:
* Roller Shade
* Fabric Combination Blinds
* Heavy Duty
* Made from High Quality Fabric
* Have chain on the side which can be raise and lower depending on the preferred height
* Have side edges finished free of snags or loose fibers
* Bottom edge must have plain stretcher bar of sufficient weight to ensure blinds in vertical / straight position
* Customized cut depending on the window measurement
OTHER REQUIREMENTS
* The supplier must conduct an ocular visit to ensure an accurate and actual measurement of blinds (See attached plan for the window measurement of the offices.)
* The supplier must be able to present swatches for selection per offices/area.
* The swatch/colors of the offered blinds shall be subject to the approval of the Campus Director upon receipt of purchase order.
DELIVERY TERM:
30 Calendar Days upon receipt of Purchase Order
1
Lot
840,000.00
Proponent must be familiar with CDC regulations and policies
Proponent must be familiar with Government Transactions
For more information, please contact the Bids and Awards Committee of PSHS-CLC: Tel no. (045) 499-0136 / (045) 499-5597 loc 202 or email us at
This email address is being protected from spambots. You need JavaScript enabled to view it.
Submissions will be accepted until August 24, 2021, 9:00am at the PSHS- CLC, Lily Hill St., Clark Freeport Zone, Pampanga or through email at
This email address is being protected from spambots. You need JavaScript enabled to view it.
Details

Hits: 451
Request for Quotation
Philippine Science High School – Central Luzon Campus (PSHS-CLC) wishes to invite proponent for the Procurement for the Supply and Installation of Fixed Glass for Steel and Wood Doors at the Administration Building with ABC of Sixty Thousand Two Hundred Pesos only in words and Php 60,200.00 in figures. SPPMP 2021-08-002-03
Details: PR No.2021-08-005-01
1 LOT Supply and installation of fixed glass for steel and wood doors at the Administration Building
Item Description Qty
Unit
Unit Cost Supplier's Price per pax
1/4" Clear Glass with Sealant (including installation)
Sizes:
24" x 36" 24 pcs. 1,000.00
8" x 72" 17 pcs. 1,000.00
22" x 58" 1 pc. 1,600.00
22" x 41" 9 pcs. 1,300.00
36" x 72" 1 pc. 2,900.00
22" x 29" 1 pc. 1,000.00
8" x 27" 4 pcs. 500.00
Proponent must conduct the repair onsite at PSHS-CLC
Proponent must complete the repair service within (60) sixty calendar days
Proponent must be familiar with CDC regulations and policies
Proponent must be familiar with Government Transactions
For more information, please contact the Bids and Awards Committee of PSHS-CLC: Tel no. (045) 499-0136 / (045) 499-5597 loc 202 or email us at
This email address is being protected from spambots. You need JavaScript enabled to view it.
Submissions will be accepted until August 19, 2021, 9:00am at the PSHS- CLC, Lily Hill St., Clark Freeport Zone, Pampanga or through email at
This email address is being protected from spambots. You need JavaScript enabled to view it.
Details

Hits: 442